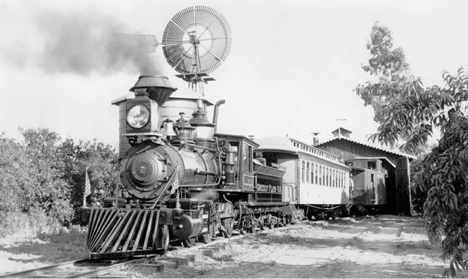 I admit it. I like technology. And I have gotten my hands dirty over the years exploring it. Sometimes with a lot of hard work; and on some occasions, a lot of fun. Makes moments like the one seen above seem to take me back in time.
But when it comes to showing that to other people who may not be so inclined, a list of facts and figures can become just another boring dissertation on a hunk of metal.
The challenge can be how we find the balance between explaining the "nuts and bolts" of a technology and why it mattered to the people who made use of it.
As an example, take a car in an auto museum. Could be restored to factory fresh condition as it rolled off of the showroom floor. Or it could be as it was, unrestored, with the fabric intact as it was driven by its owners. What is the greater story to share? Was it just another Model T Ford off the production line, any color you liked as long as it was black. Or was it a car like the 1907 Thomas Flyer that won the original New York to Paris race; still in running condition – out on the streets of Reno this last week?
Sure, it is amazing that the car is still around today and running, as it was designed to do so. But is there another story of greater importance to be told? Such as what happened to the men who made that trip from New York to Paris? If so, what method do we use to tell their stories? Do we take advantage of technology to the best possible use to do that?
I have seen first hand how telling a story can change when the technology becomes the way in which a story is told. As a docent at a railway museum, I was giving a tour to a group of middle school students. As we walked among the equipment and I was telling them what this streetcar was and where it came from, I could sense how bored they were. So as we came to the electric interurban car we were going to taken a ride on, I changed my approach.
I made the story I was about to tell one where they could imagine themselves as part of that story. I told them how this particular car had seen service carrying students just like them from homes in outlying parts of Sonoma County into Petaluma so they could attend school. And as we rode out into the open fields along the railroad line, I could see that because I put people into my story, it made them more interested. When we reached the end of the line and had to reverse directions, I took a brief moment and explained how this car had been retired by the railroad and hot the body ended up as a sewing room at a home outside of Petaluma. Again, making it seem more personal than just a train they were riding on.
The focus of this session will be to identify ways in which technology can be a story that relates to visitors and how to use technology to help accomplish that goal.
Roger Colton has been a volunteer in many roles at railway museums in California, Nevada and Hawaii, he has seen this connection in action on many occasions. He is also a member of the Walt Disney Family Museum and participated in development of the recent Walt Disney and Railroads exhibition.